ISF is hosting its inaugural virtual Alumni Conference on July 30-31st. The conference will be led by both ISF scholars and professionals in the fields of policymaking, government law, media, and film.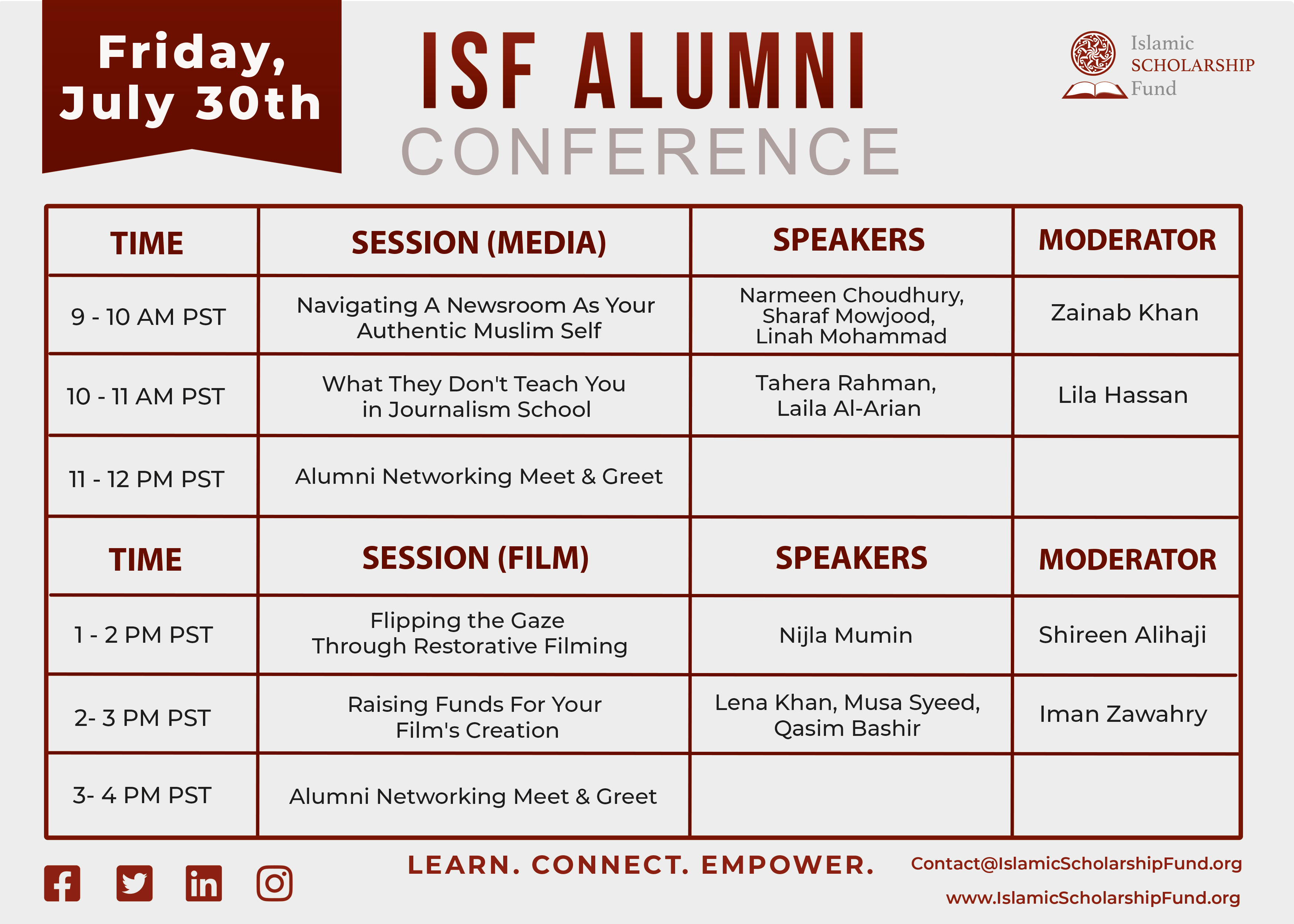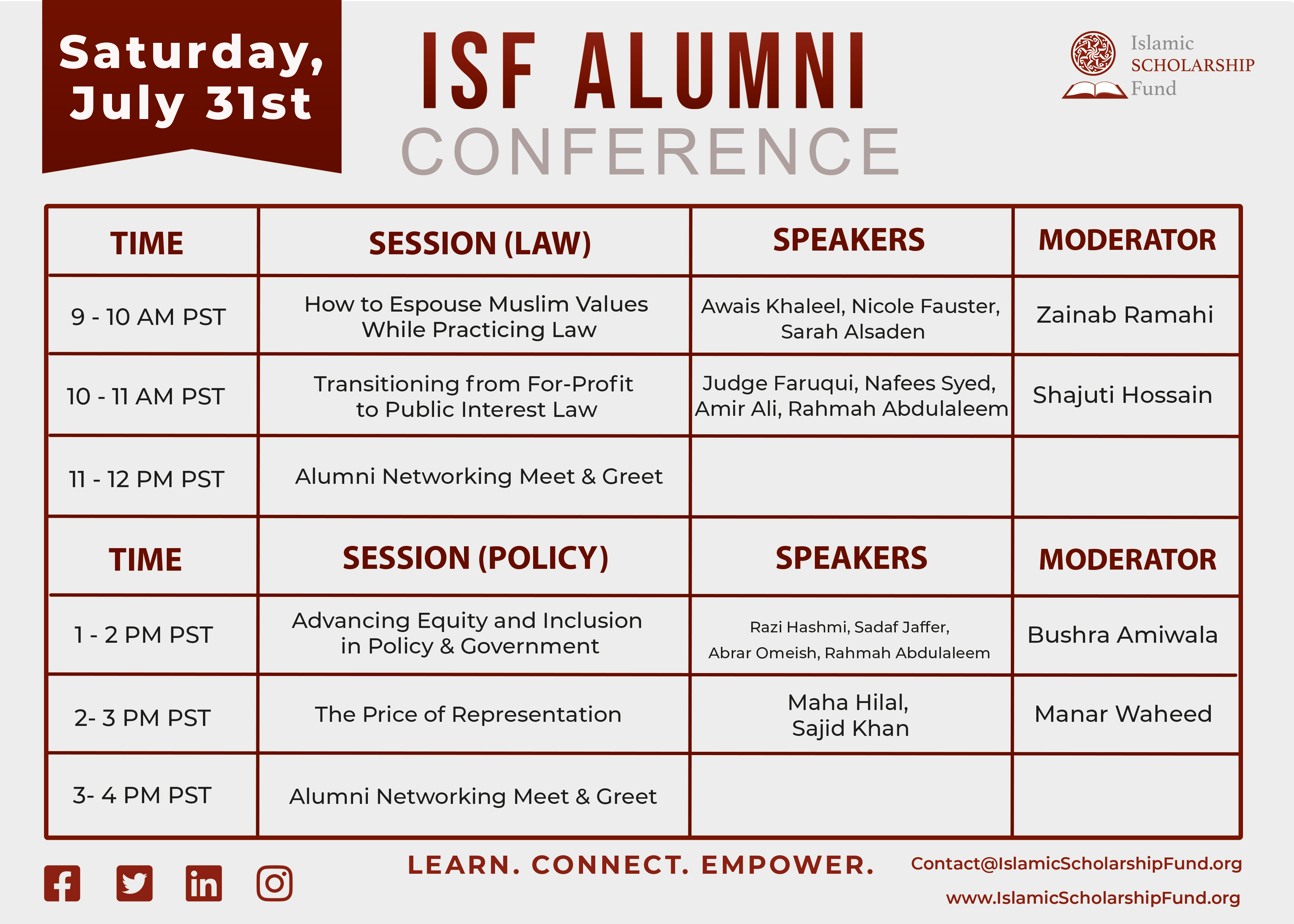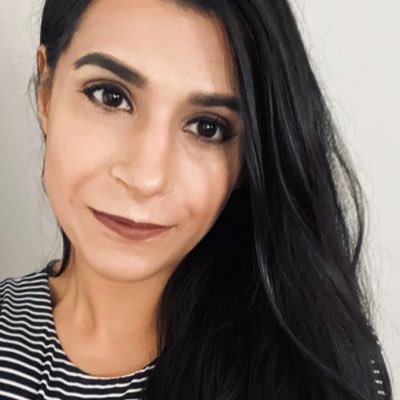 Zainab Khan currently works at The New York Times as Associate Director of Audience - Video. Prior to this role, she worked as the Times' Audience Strategy Editor and at AJ+ as a Social Content Editor and Digital Strategist. Zainab attended UC Berkeley's Graduate School of Journalism where she launched a publication called Mozzified, Muslim Pop Culture, and a production company called Mozzified Studios. Within its first year, and with no outside funding, Mozzified's website had over 400,000 unique views.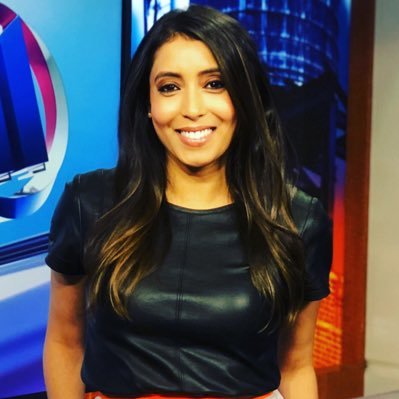 Narmeen Choudhury is an Emmy Award-winning journalist and reporter for the 5, 6 and 10 p.m. newscasts on WPIX. She joined the team as a general assignment reporter in 2011 and has contributed to the station regularly as a fill-in anchor. Narmeen comes to WPIX from WTIC in Hartford, Conn., where she served as a reporter and fill-in anchor since 2007.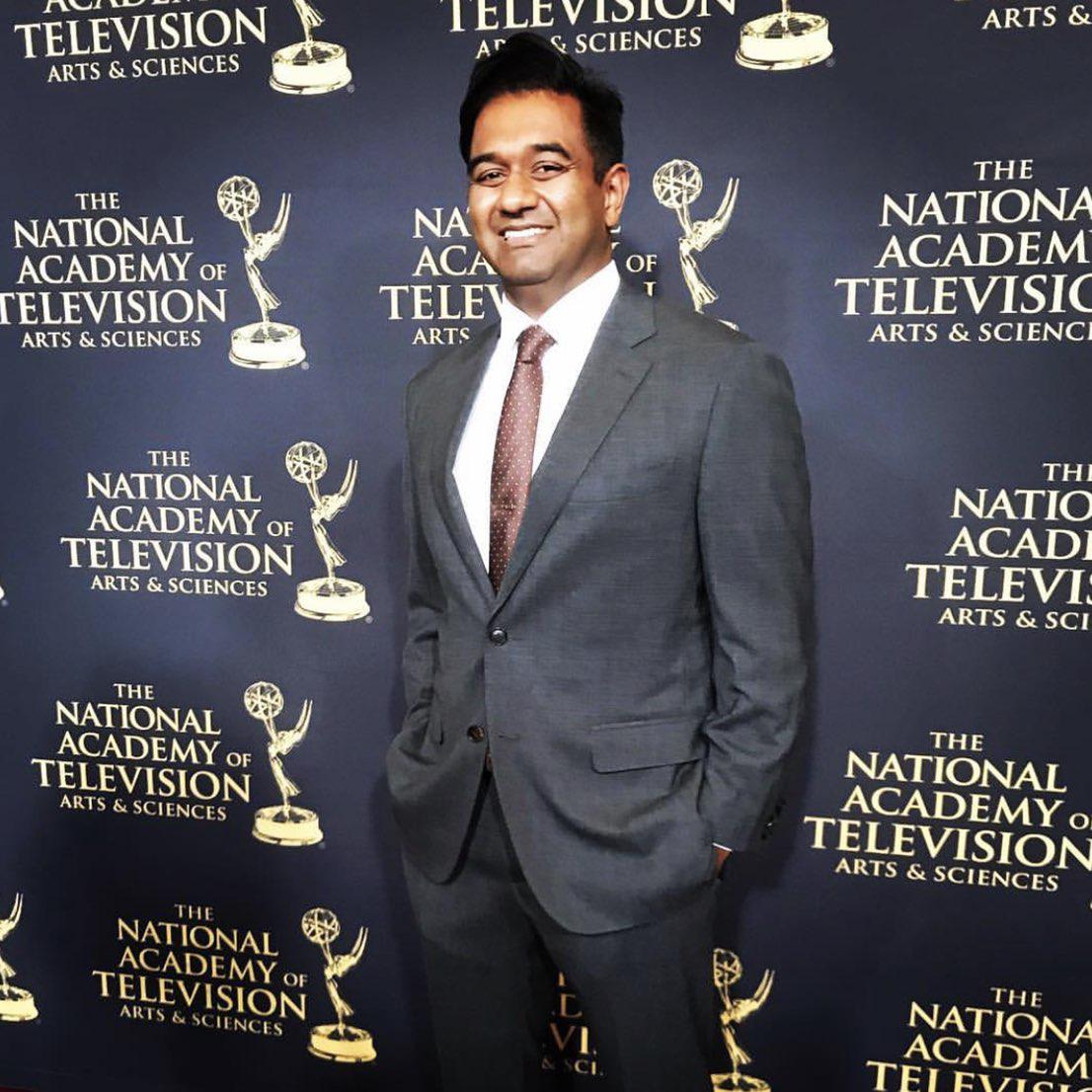 Sharaf Mowjood is a Producer for the CBS Evening News in New York, New York. He previously worked as Senior Producer for Politics - Video at HuffPost and as a Producer and Associate Producer for NBC News. He is best known for his work on Rock Center with Brian Williams, "Wal-Mart: The High Cost of Low Price," and "Take 24." He has also worked as a writer for The Washington Post and The New York Times. He received his Master of Science Degree in Broadcast Journalism from Columbia University's Graduate School of Journalism and Bachelor of Arts from Chapman University in Peace Studies and Film.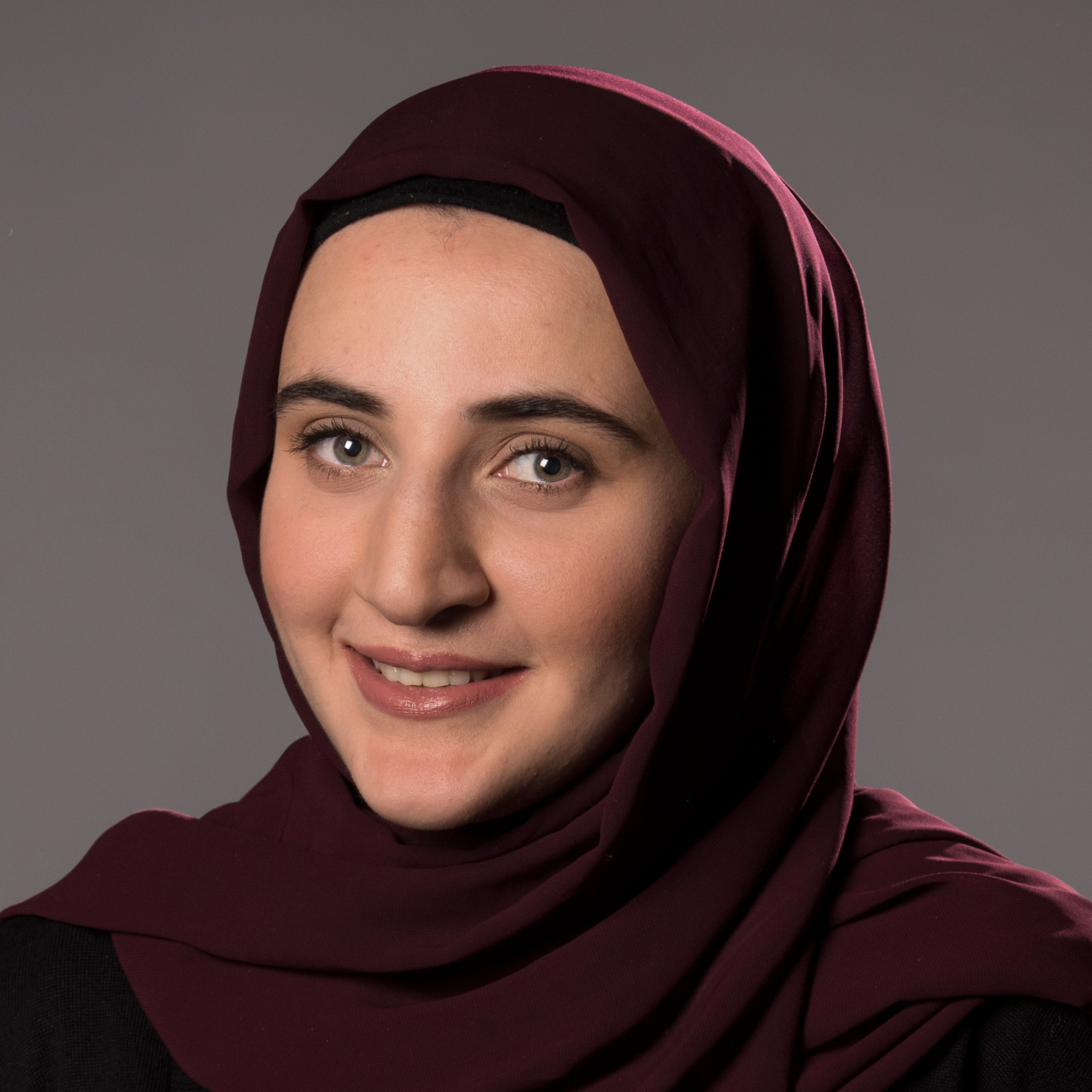 Linah Mohammad works on the flagship daily news podcast, "Post Reports." She joined The Washington Post in November from NPR where she was a producer for "All Things Considered" and "Morning Edition." Previously, Linah worked for local and college stations in North Texas.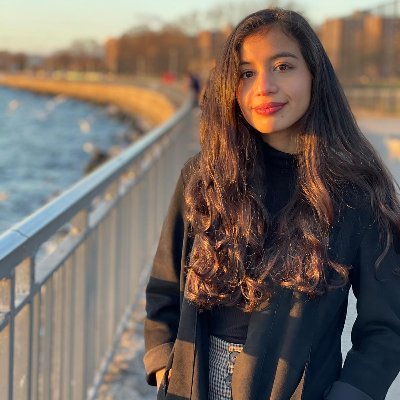 Lila Hassan is a Tow Reporting Fellow at FRONTLINE PBS. Prior to attending the Columbia University School of Journalism's Toni Stabile Center for Investigative Reporting, Lila Hassan was the senior Middle East/North Africa associate at Human Rights Watch, where she conducted background research and fact-checking for human rights abuses in the region and provided production assistance for all products. Previously, Hassan had also conducted in-depth research on abuses in Egypt as MENA intern at Human Rights Watch. Lila is a recipient of the Jeannette K. Watson Fellowship and an alumna of the Scholars Program at Brooklyn College.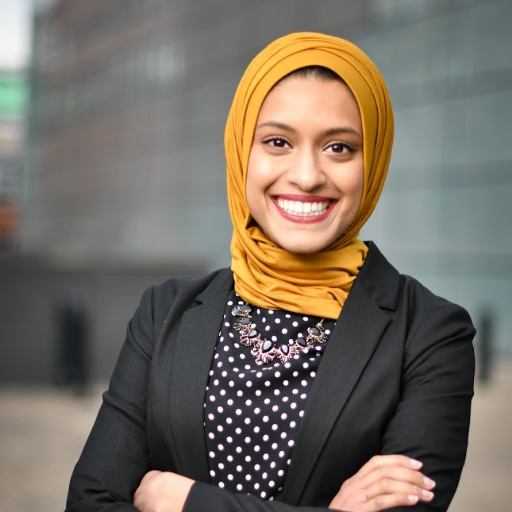 Tahera Rahman is a newscaster in the United States who attended college at Loyola University Chicago, where she graduated with a degree in journalism and international studies. She comes to the awesome Austin-area from the Quad Cities, where she reported for communities on the Illinois-Iowa border for WHBF-TV. When she made her on-air debut in 2018, Tahera not only fulfilled her lifelong dream of becoming a TV news reporter, but she also broke a historic barrier, becoming the first full-time TV reporter to wear a hijab, or headscarf, on American news.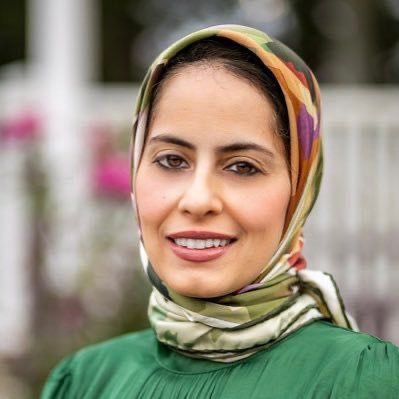 Laila Al-Arian is an American Emmy-award-winning broadcast journalist for the Al Jazeera Media Network. She is the executive producer for the Al Jazeera English documentary series Fault Lines. She also co-authored "Collateral Damage: America's War Against Iraqi Civilians" with Chris Hedges. Laila has produced several documentaries, including the Peabody-winning investigative report "Made in Bangladesh." Since graduating from the Columbia School of Journalism in 2006, Laila's work has appeared in The Nation, The Independent, The Guardian, HuffPost, Salon, and several other publications. On October 1, 2018, Laila won an Emmy for her film, "The Ban: The human cost of Trump's travel ban."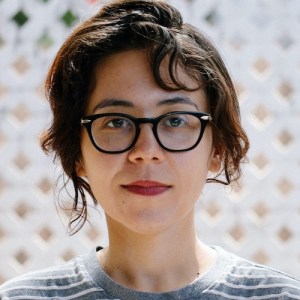 Shireen Alihaji is a poet/filmmaker from Los Angeles covering stories on labor rights, environmental justice, hate crimes, trafficking, sexual violence, capital punishment, health care equity, immigration and accessibility for people with disabilities. Her revolving identities (Latinx, Iranian, Muslim Disabled) inspire her to hold space for intersections and advocate for all.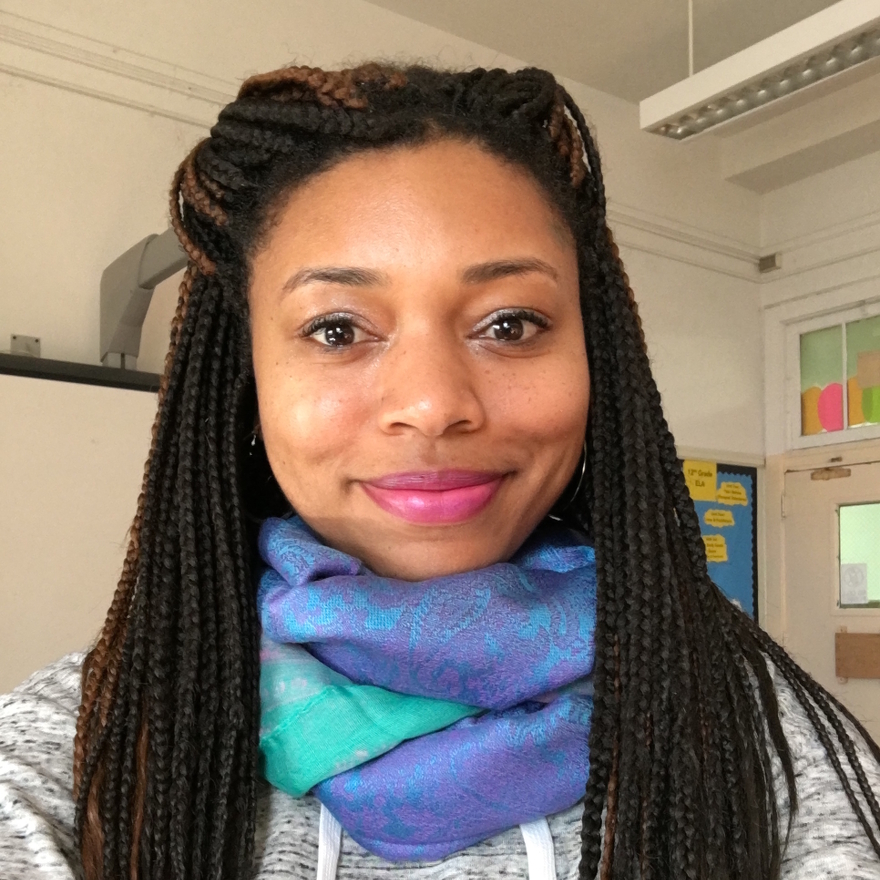 Nijla Mu'min is a writer and filmmaker whose artistic background spans poetry, photography, short fiction, dance, and film criticism. Hailing from the East Bay Area, she tells stories about Black girls and women who find themselves between worlds and identities. Her short films have screened at festivals and venues across the country. She has written for Shadow & Act/Indiewire, East Bay Express, The Los Angeles Times, and Vice.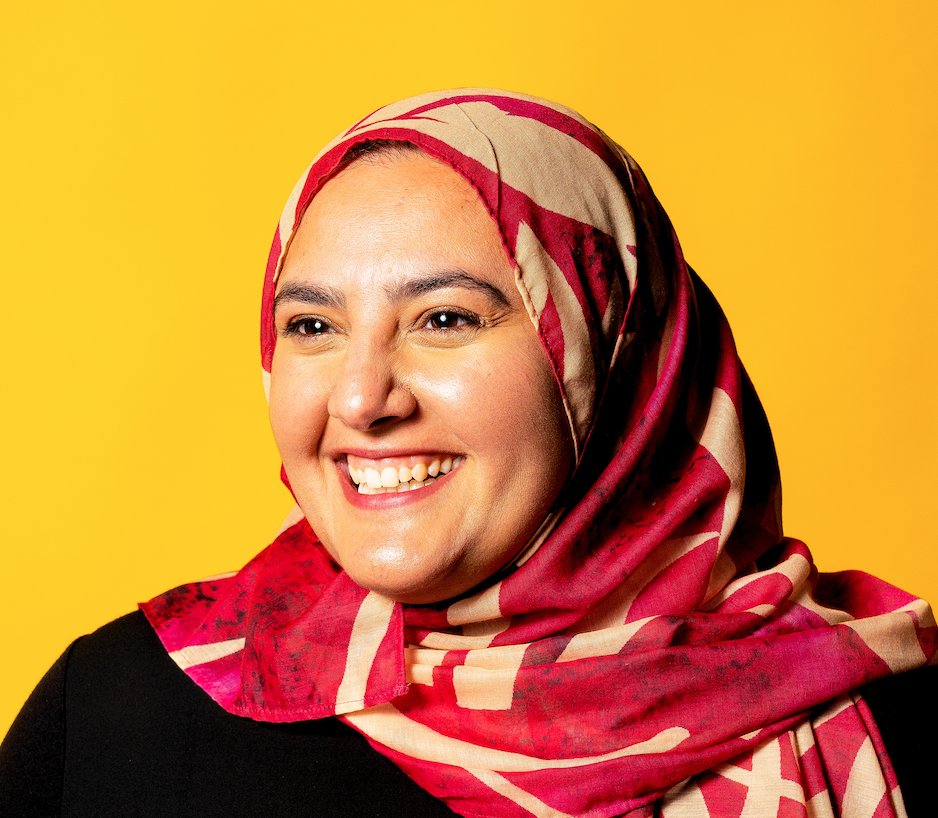 Iman Zawahry is one of the first hijabi American-Muslim filmmakers in the nation. She has worked on numerous films that have played at over 100 venues worldwide. Along with being ISF's first film grant recipient, Iman co-created the first ever American Muslim film grant with ISF where she currently serves as director. She wrote and directed her debut feature film Americanish with a majority female crew which won the Audience Award at the world premiere festival CAAMFest in San Francisco, CA. She currently is a professor of film production at the University of Florida.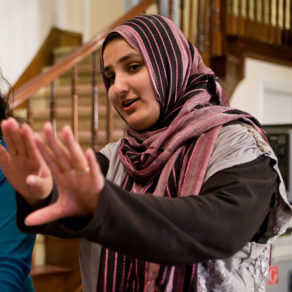 A film director and writer, Lena Khan co-wrote and directed The Tiger Hunter, which released across the United States in 2018.  The Tiger Hunter was received positively with strong reviews in publications like The New York Times, Variety and Los Angeles Times, leading Disney to tap Lena to helm the family comedy Flora & Ulysses. Flora and Ulysses premiered in 2021 and was in the top 3 streamed movies in the world for several weeks. Lena recently filmed several episodes of Mindy Kaling's Netflix show, Never Have I Ever, and is now working on a feature and has a pilot deal for a show she is executive producing.
Lena's educational background is at the UCLA School of Theater, Film and Television, and she holds experience from production companies such as Participant Media. Before her first film, Khan spent years directing short films, commercials and music videos.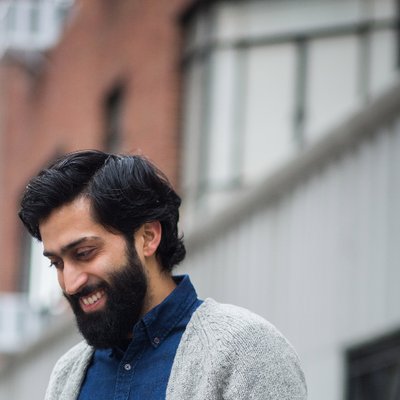 As a writer and filmmaker, Musa Syeed's work attempts to bring the inner dimensions of Muslim lives to the page and screen. His credits as writer/director include the feature films Valley of Saints (Audience Award Winner, Sundance Film Festival) and A Stray (New York Times Critics Pick). His documentaries include A Son's Sacrifice (Best Short Doc, Tribeca Film Festival) and Bronx Princess (Official Selection, Berlinale), both of which broadcast nationally on PBS.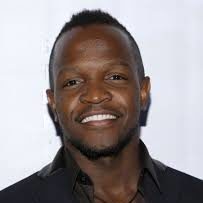 Qasim Basir is an American filmmaker. He wrote and directed Mooz-lum (2011) starring Danny Glover and Nia Long about an African-American Muslim family and how their lives are changed by the September 11 attacks. The film received nominations from the NAACP Image Awards and Black Reel Awards. Basir also wrote and directed Destined (2016) starring Cory Hardrict. Basir won Best Director at the American Black Film Festival. Basir's film A Boy, A  Girl, A Dream starring Omari Hardwick and Meagan Good has been selected for the 2018 Sundance Film Festival.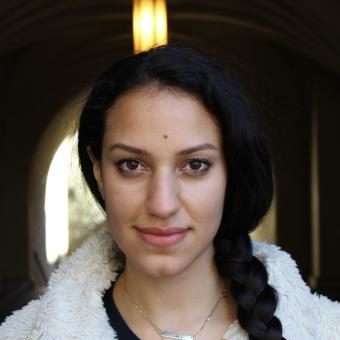 Zainab Ramahi graduated from Berkeley Law in 2019, clerked in the District of Delaware, and is currently clerking for Judges Dorothy Nelson and Richard Paez on the Ninth Circuit Court of Appeals. She is interested in issues of settler colonialism, labor law, and national security defense. Zainab plans to join Keker, Van Nest & Peters in the fall.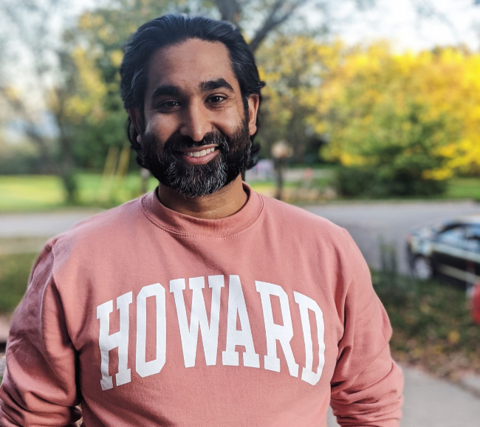 Awais Khaleel is the Chairman of the Wisconsin State Ethics Commission, which ensures government accountability by overseeing Wisconsin's lobbying, campaign finance, and ethics laws. Awais also serves as an Assistant District Attorney for the Dane County District Attorney's Office. As a prosecutor, he focuses on domestic violence, sexual assault, and crimes against children. Prior to becoming an ADA, Awais was an associate with a boutique Washington, DC civil rights law firm that advocates for victims of employment discrimination. He also previously served as a public policy attorney for KARAMAH Muslim Women Lawyers for Human Rights.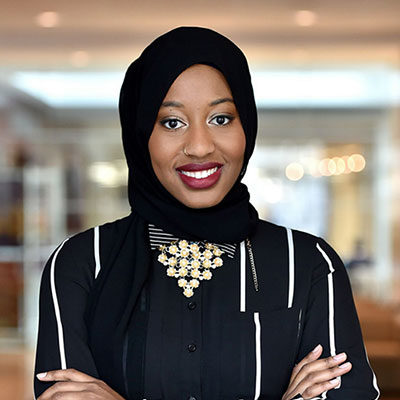 Nicole Fauster is currently a Staff Civil Rights Attorney with CAIR-Georgia. She received her JD from Georgetown Law student, where she was known as a student leader on campus. Nicole served as co-president of the Muslim Law Students Association for the 2018-2019 school year. Her passion for justice has taken her to numerous countries, including Nigeria, where she works now, and numerous institutions, such as the ACLU (American Civil Liberties Union).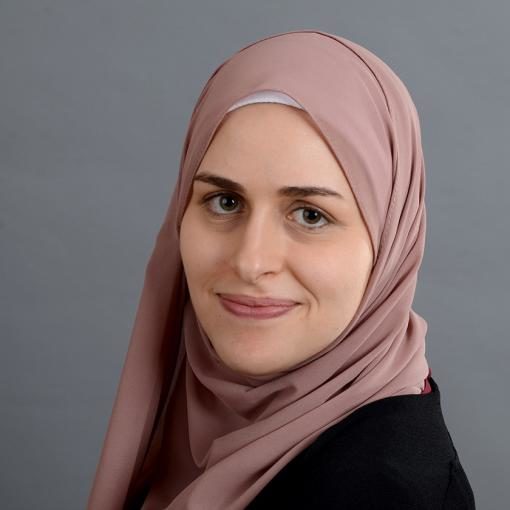 SARAH ALSADEN is the 2020-2021 Fellow assigned to the Federal Judicial Center, the education and research agency for the federal courts. Ms. Alsaden joins the Supreme Court Fellows Program from the United States District Court for the Southern District of Ohio, where she clerked for the Honorable Algenon L. Marbley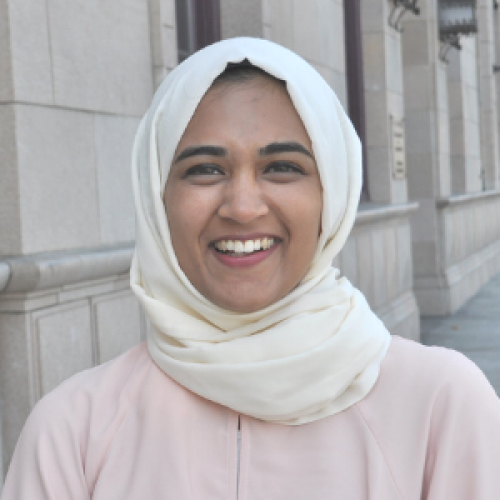 Shajuti Hossain is a staff attorney at Public Advocates, a legal non-profit in San Francisco. She works with community partners to advocate for housing policies that protect tenants and ensure affordable housing, particularly for residents of color, in the Bay Area and statewide. One of her focus areas is using regional housing planning and policies to help address racial segregation in the Bay Area. She obtained both her J.D. and B.S. from Duke University in 2018 and 2015 respectively.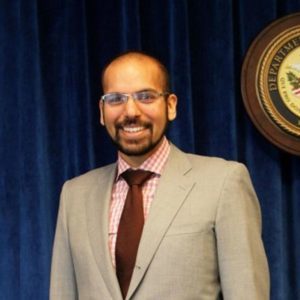 Zia M. Faruqui was appointed as a United States Magistrate Judge on September 14, 2020.  He received a B.A. and J.D. from Georgetown University. Following law school, he was a litigation associate at Willkie Farr in Washington, D.C., where he focused on government investigations and general commercial litigation.  Judge Faruqui then served for twelve years as a federal prosecutor in the U.S. Attorney's Offices in St. Louis and Washington D.C.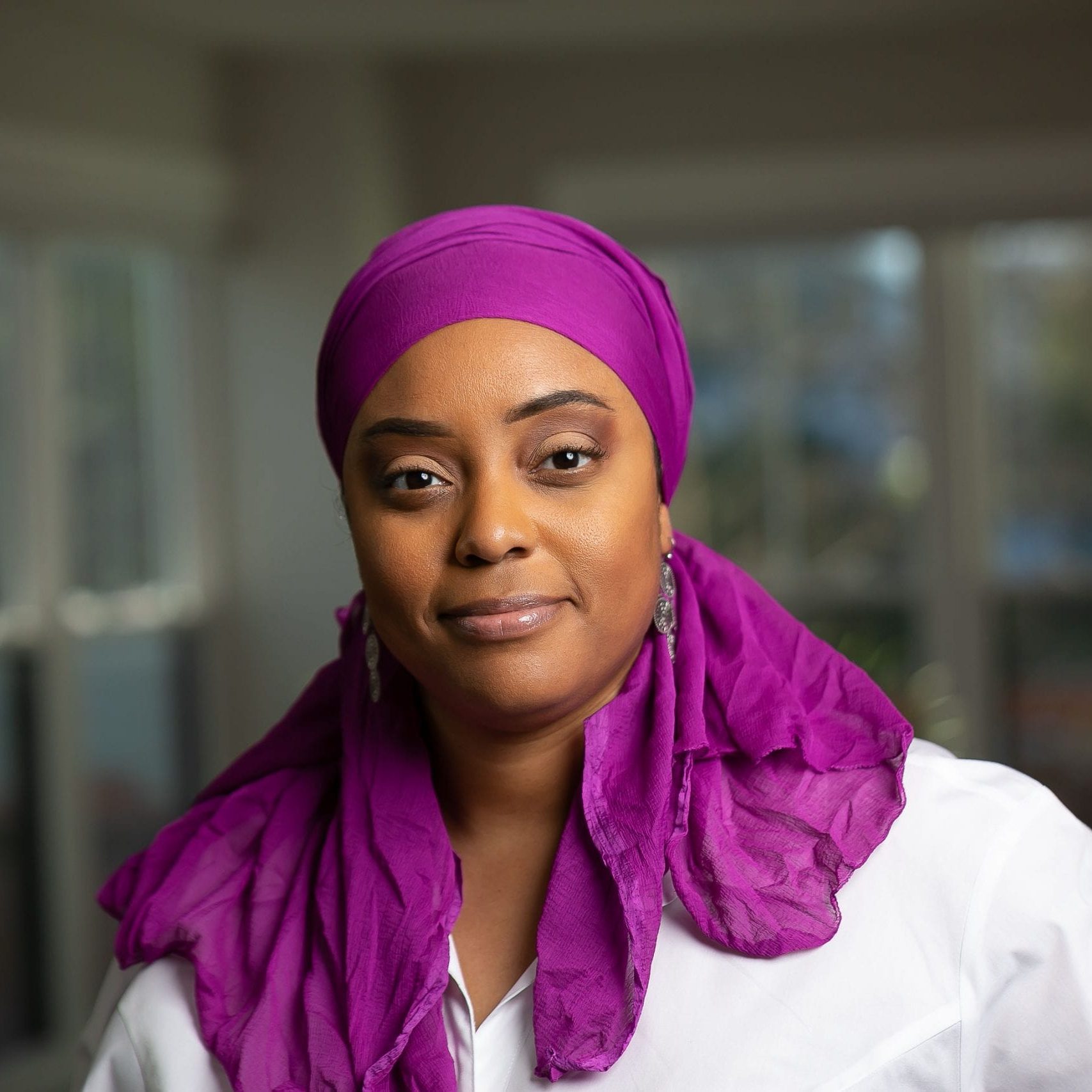 Rahmah A. Abdulaleem is the Executive Director of KARAMAH: Muslim Women Lawyers for Human Rights where she works to create a global network of advocates knowledgeable about the gender-equitable principles of Islam and are able to advance the cause of Muslim women's rights in legal and social environments.  As KARAMAH's Executive Director, she works with scholars to empower advocates about the rights Islamic law grants to women and to educate Muslim women in Islamic jurisprudence, leadership, and conflict resolution so that they may become the leading agents of change within their communities.
Amir H. Ali teaches the law school's Criminal Justice Appellate Clinic and has taught courses on appellate and constitutional litigation. He serves as Director of the MacArthur Justice Center's Washington D.C. office. Mr. Ali appears in federal appellate courts across the country on behalf of families whose children were killed or severely injured by police, people condemned to death sentences, and prisoners who suffer constitutional violations behind bars.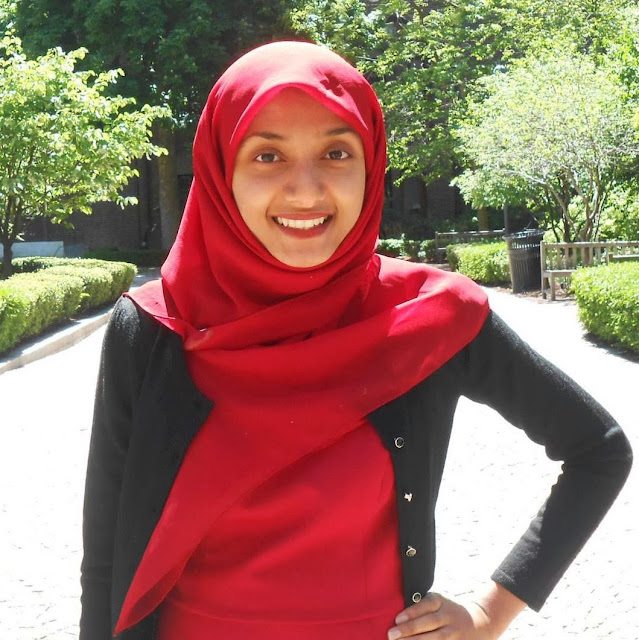 Nafees Syed is a writer and an attorney in New York. She is a former foreign policy advisor to a member of Congress, and also served on the staff of the U.S. House of Representatives Judiciary Committee. There, she worked on legal issues surrounding the BP oil spill and oversight of federal agencies, including the FBI. On behalf of the committee, she also worked on the successful impeachment trial of Judge Thomas Porteous Jr. under Congressmen Adam Schiff, Bob Goodlatte, and Hank Johnson. Nafees has published several op-eds in CNN, Foreign Policy, The Huffington Post, The Atlanta Journal Constitution, and The San Francisco Chronicle. They have often been featured on the front page and "most popular" list. Nafees is a graduate of Harvard College and Yale Law School, where she is also a fellow at the Information Society Project.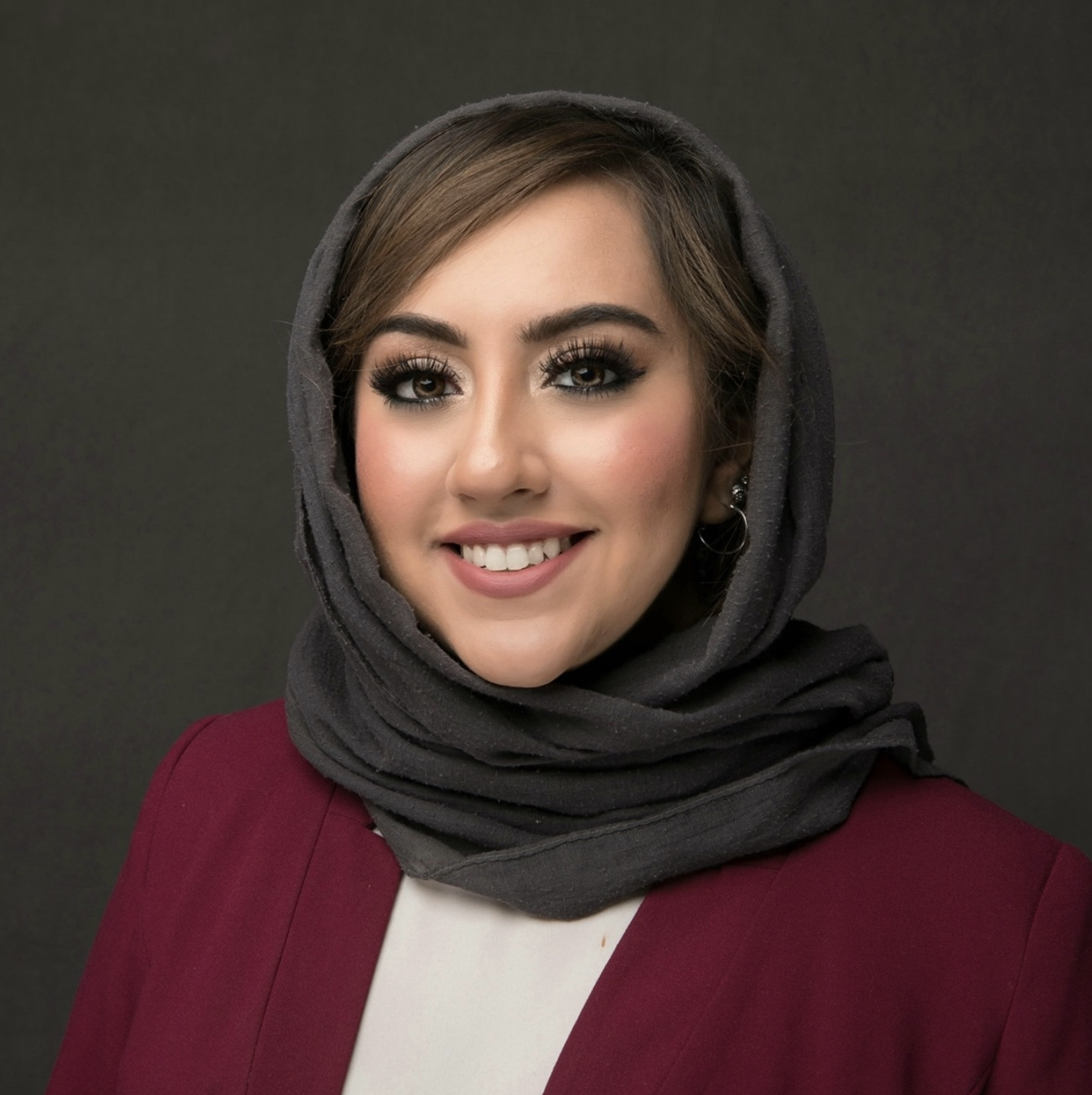 Bushra Amiwala is a Chicago native, activist, DePaul University Sophomore and former candidate for the Cook County Board of Commissioners. At the age of 19 she announced her candidacy for the Cook County Board of Commissioners to serve as a voice for her underrepresented generation and other marginalized communities. Bushra's passion for various issues and organizations lead her to decide to run for office and her campaign resulted in historical voter turnout, making her a strong second with 13,500 votes. She was the youngest person and first Muslim woman to ever run for this seat. She hopes to one day be the CEO of her non-profit organization.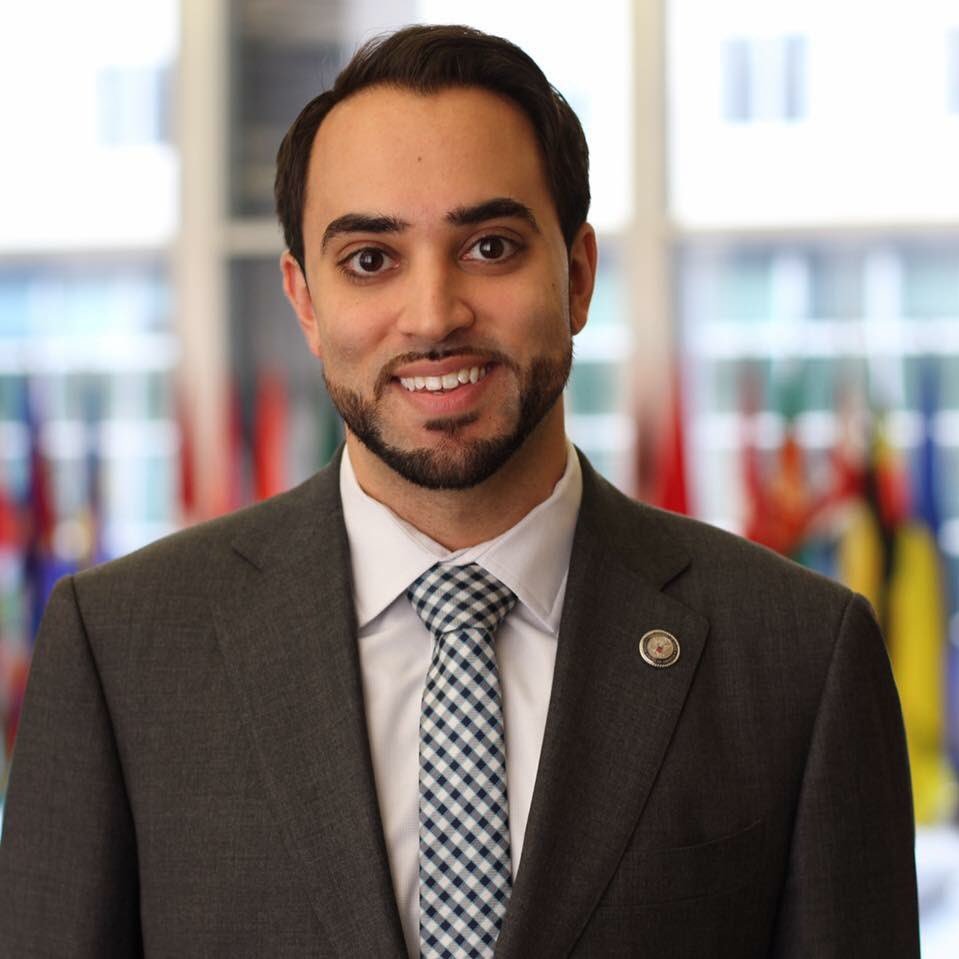 Razi Hashmi is a South Asia and Technology Advisor in the Office of International Religious Freedom at the U.S. Department of State. He previously served as congressional advisor to the Assistant Secretary of State for the Bureau of International Narcotics and Law Enforcement Affairs (INL) and as Washington-based foreign affairs officer on INL counternarcotics and rule of law programs in Afghanistan. Starting his federal career in 2013 as a Presidential Management Fellow (PMF) at FEMA and DHS, he worked on public affairs, congressional affairs in former Secretary Jeh Johnson's office, and innovation and emergency management policies. He also worked in the U.S. Congress, local government, political campaigns, and led a civil rights non-profit. Razi is co-founder and President of the Mosaic Muslim Federal Employee Association, a non-profit professional network of American Muslims in the federal government dedicated to career advancement, leadership development, and promoting diversity, equity and inclusion. Razi serves on the Virginia Asian Advisory Board and formerly on Virginia Complete Count Commission (2020 Census). Razi is also a Term Member with the Council on Foreign Relations (CFR), 2019 Truman National Security fellow, 2018 International Career Advancement Program (ICAP) fellow, and Foreign Policy For America Next Generation Fellow.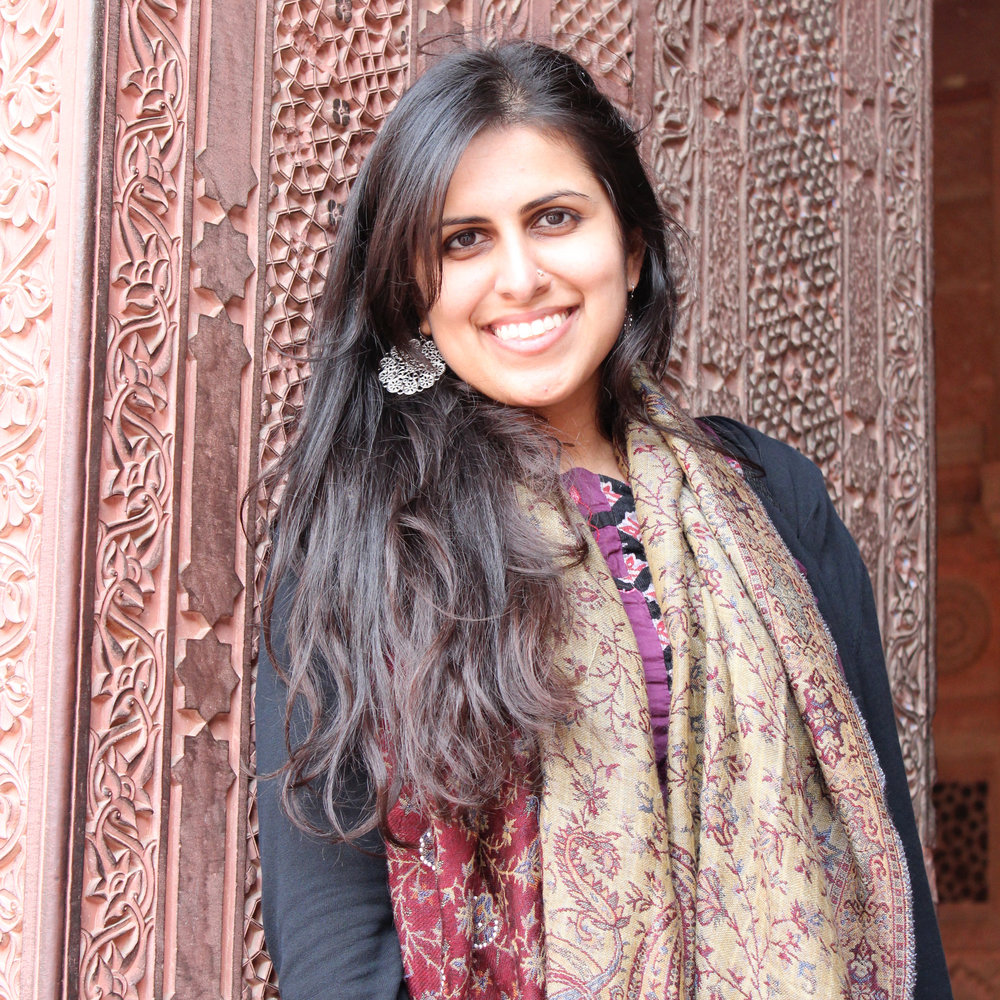 Dr. Sadaf Jaffer is an educator and activist. She recently completed two terms as mayor of Montgomery Township, New Jersey. In January of 2019, she became the first South Asian woman to serve as mayor of a municipality in New Jersey, and the first Muslim woman to serve as mayor of a municipality in the United States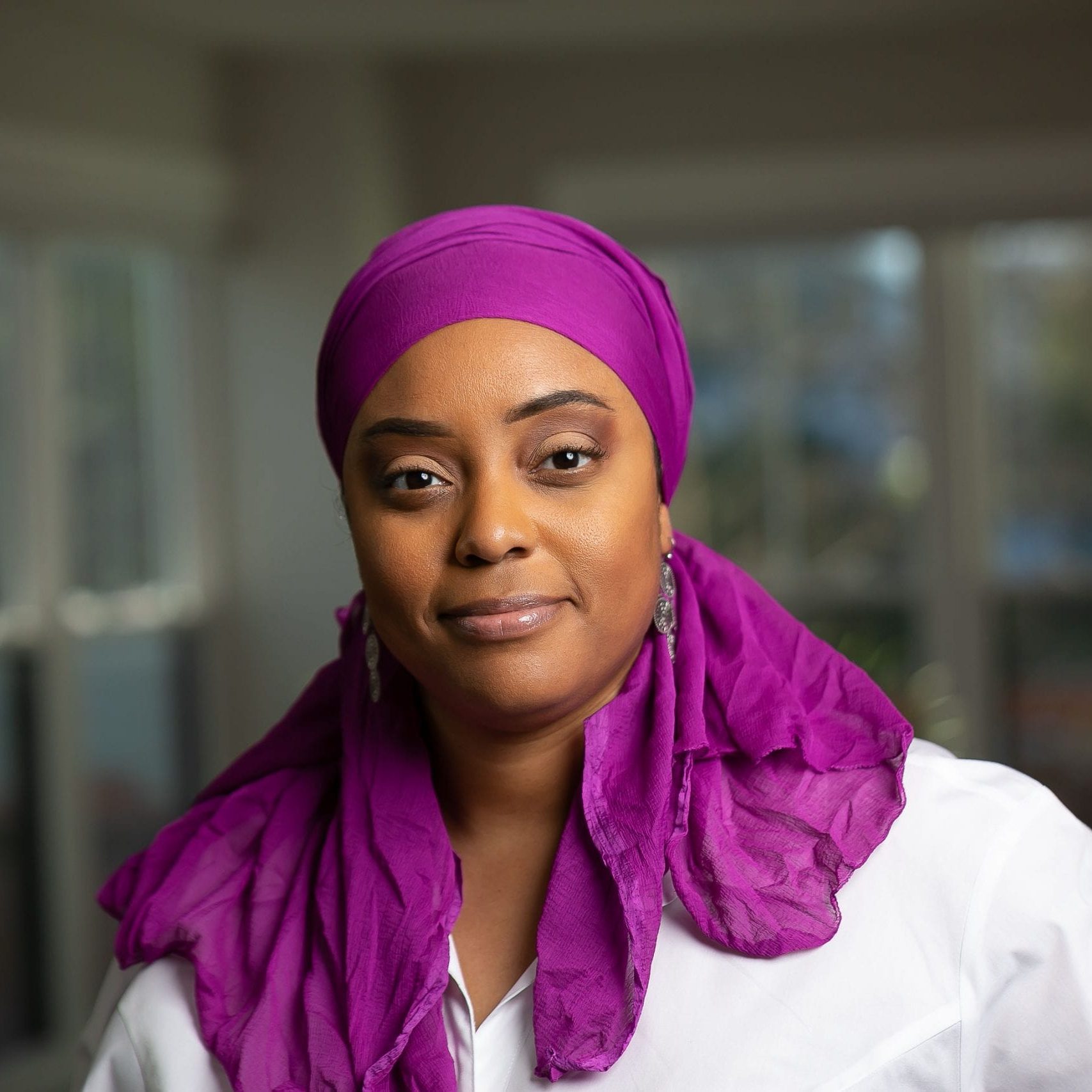 Rahmah A. Abdulaleem is the Executive Director of KARAMAH: Muslim Women Lawyers for Human Rights where she works to create a global network of advocates knowledgeable about the gender-equitable principles of Islam and are able to advance the cause of Muslim women's rights in legal and social environments.  As KARAMAH's Executive Director, she works with scholars to empower advocates about the rights Islamic law grants to women and to educate Muslim women in Islamic jurisprudence, leadership, and conflict resolution so that they may become the leading agents of change within their communities.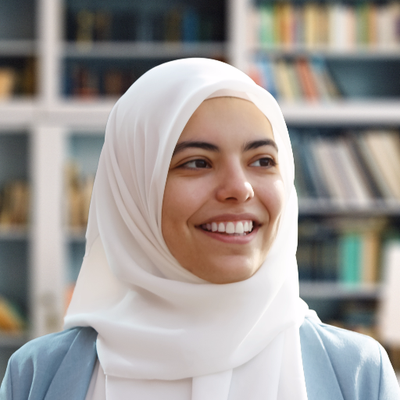 Abrar Omeish made history by becoming the youngest Muslim woman in Virginia to hold elected office. In December 2019, Abrar won one of three vacant seats on the Fairfax County School Board. Omeish will continue serving that position until 2023 when her term ends.    Omeish has worked consistently with the Muslim-American community and advocating for women's rights for quite some time.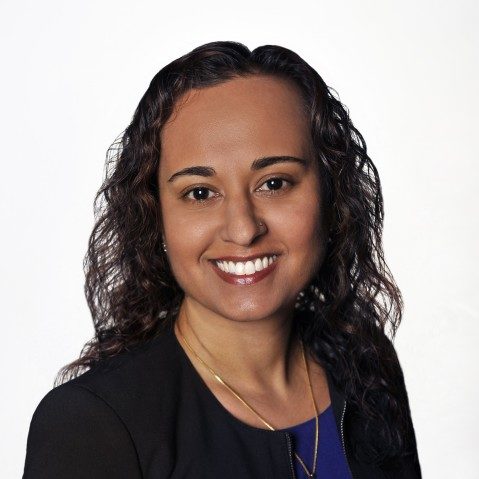 Manar Waheed joined the American Civil Liberties Union (ACLU) in March 2017. As Senior Legislative and Advocacy Counsel, she works on the intersection of issues impacting Muslim, Arab, Middle Eastern, and South Asian communities, including immigration, national security and counterterrorism, and hate violence and bullying. Manar works to ensure that policies affecting these communities are consistent with the Constitution, civil liberties, and human rights. She also plays a role in developing and implementing strategic campaigns and programming within the National Political Advocacy Department with an eye towards engaging Muslim, Arab, Middle Eastern, and South Asian communities.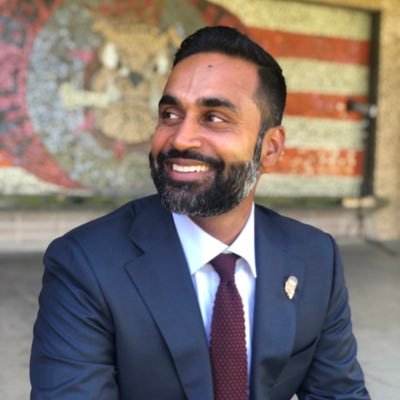 Sajid Khan is a son of Santa Clara County, having lived here for most of his life, first in Milpitas, then in San Jose.He attended San Jose High and then returned to San Jose after college in Berkeley and law school in San Francisco. Sajid raises his two sons here and has worked for the last 13 years as a Santa Clara County Deputy Public Defender and Alternate Public Defender serving our community, fighting against mass incarceration, for our constitutional rights, the humanity of our people and for values of compassion and redemption. Sajid is running for Santa Clara County District Attorney in 2022.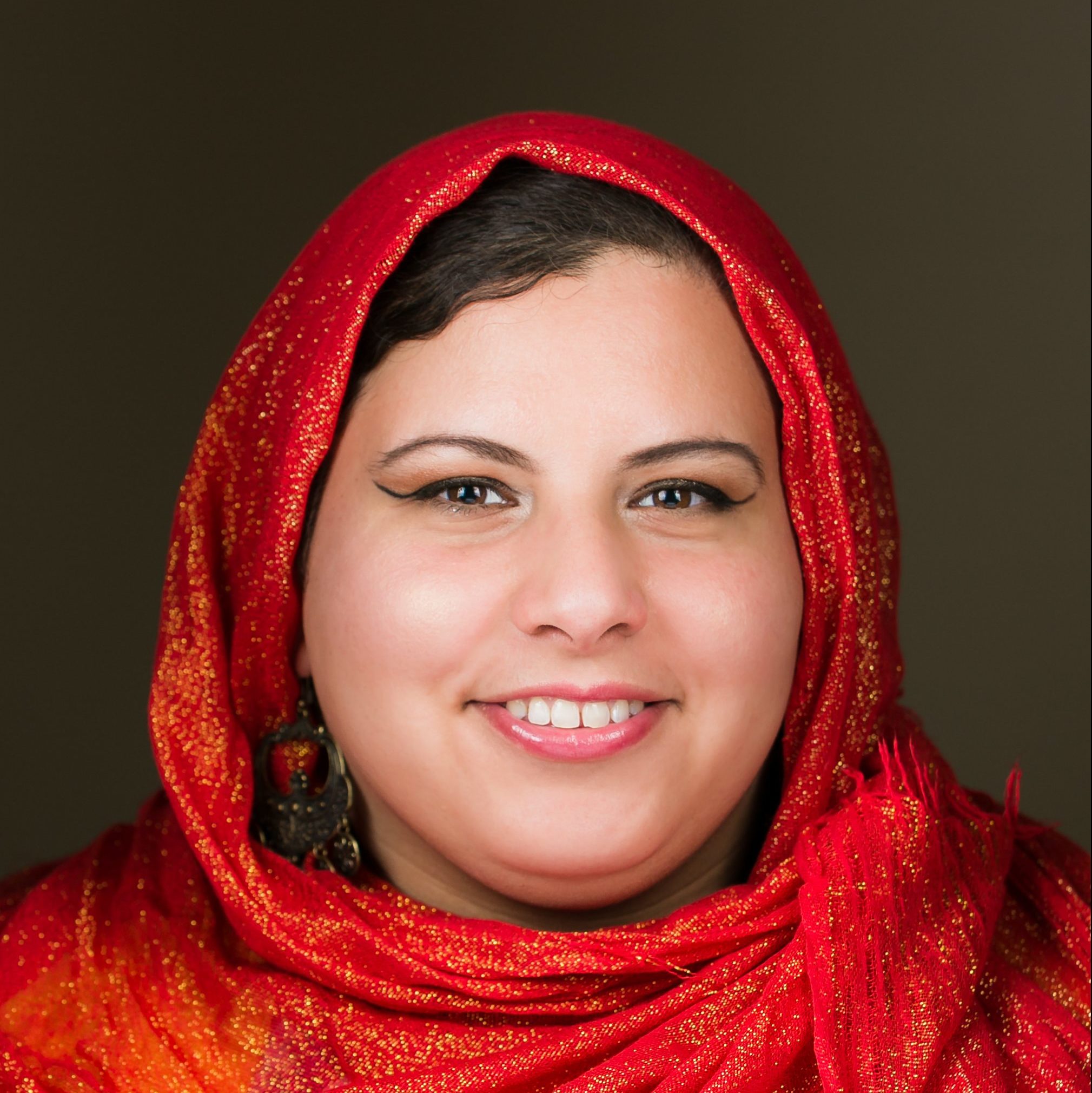 Dr. Maha Hilal is the inaugural Michael Ratner Middle East fellow with the Institute for Policy Studies in Washington, D.C. She is also an organizer with Witness Against Torture and a steering committee member of the DC Justice for Muslims Coalition. Dr. Hilal earned her doctorate in May 2014 from the Department of Justice, Law and Society at American University in Washington, D.C. The title of her is "'Too damn Muslim to be trusted': The War on Terror and the Muslim American Response.